Out of stock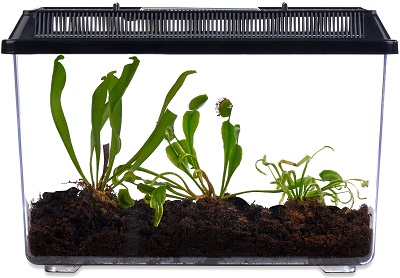 Deluxe Carnivorous Plant Terrarium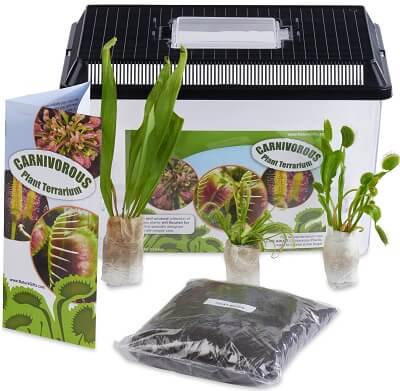 Deluxe Terrarium, Peat Moss, and Instructions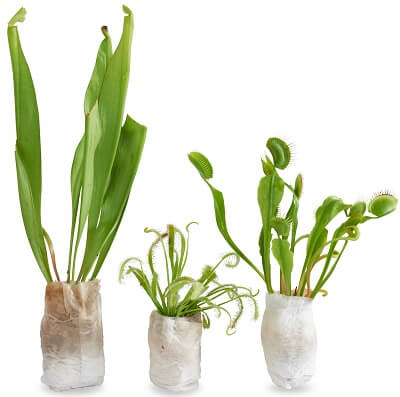 Pitcher Plant, Cape Sundew, and Venus Flytrap Plants for Deluxe Kit
Deluxe Carnivorous Plant Terrarium Kit
This deluxe terrarium has LIVE ADULT Carnivorous Plants, ready to chomp some bugs! No waiting to grow them from seeds like other kits – ours are nice sized 2 to 3-inch adult plants. Watch these fascinating plants grow in the included peat planting mix and large 2-gallon size planter terrarium with clear sides.  This rare and unusual collection of carnivorous plants will flourish for years in this specially designed terrarium with proper care.
The kit includes live carnivorous plants or certificate for plants, 2-gallon terrarium (11.75″ x 6.75″ x 8″), a bag of sphagnum peat moss, and instructions.

Comes as a set of 3 live plants. Lids of the terrarium may be black, blue, or green.

Venus flytraps will have at least 3 traps, pitcher plants at least 2 pitchers, sundews at least 6 leaves.

Order your kit with live carnivorous plants now

 

OR

 

receive your kit with a FREE certificate which you can redeem to get your plants at a later date.
Easy directions.

Please do not order if below 40 degrees or above 85 degrees in your area. Our live arrival guaranty will be void if ordered during these temperatures.
Recommended for ages 4 years and up, with adult supervision
WARNING: CHOKING HAZARD — Small parts. Not for children under 3 years
$29.99 – $32.99
3 PLANTS KIT: 1 Flytrap+1 PitcherPlant+1Sundew
3 PLANTS KIT With FREE Mail In Certificate For Plants Later